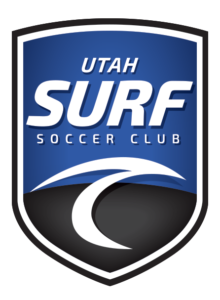 Mission Statement
 We, at Utah Surf Soccer Club, have no doubt that our core values (integrity, discipline, responsibility, and work ethic) promote a safe learning environment and enable all involved parties to achieve short and long-term success. Soccer competition is the means by which we can learn and cultivate these core values.
The Path
We encourage and promote each individual to perform at the highest level at which they are capable. We are committed to aid each participant in their pursuit of excellence at all levels of soccer achievements. We do not believe in a win-at-all-costs mentality. We feel that it is our responsibility to champion these core values in an effort to establish strong and honorable individuals in our communities.
Utah Surf Soccer Club has a tradition of developing players and teams to compete at the highest levels of the sport. We seek to maximize the potential of individuals and teams through elite soccer training and competition.
Utah Surf Soccer Club Values
Teaching youth the principles of integrity, discipline, respect, and work ethic is the mission of Utah Surf Soccer. Soccer competition provides the platform for youth to learn, cultivate, and implement these core values.
Player Development – The number one objective at Utah Surf is teaching youth. We are passionate about the quality of soccer instruction our players receive and our staff have a superior ability to facilitate player development. Our players work hard to develop their skills, compete, and win. All of that effort, however, is wasted if the youth we teach leave our program without cultivating traits that place winning and losing in proper perspective. For our coaches helping youth develop character is as important as helping them develop soccer skill.
Integrity – Too often in youth soccer the pursuit of winning is the key driver in player, team, coaching, and club decisions. This "win at all costs" mentality is contrary to our mission at Utah Surf. While we pursue excellence in competition, winning should never supesede the observance of integrity.
Respect  – We believe respect is best taught by example and we attempt to hire only those individuals who will support this ideal through their own behavior. While we pursue competitive achievement, winning should never supersede the observance of respect. We actively teach that how we act in any situation is far more important than the score of a game and we expect our players, coaches, and spectators to demonstrate respect in their behavior on and off the field.
Discipline and Work Ethic – Helping youth become exceptional soccer players requires a great deal of time and effort. We believe in teaching our players the law of the harvest and that there is much to be gained by hard work. We expect our players and coaches to push themselves at a very high level to not only reach their maximum potential as players and coaches but more importantly as people.
Safe Learning Environment – Youth soccer development is most likely to succeed in an environment where players are encouraged to try new things and are allowed to make mistakes without fear. When young players are willing to take calculated risks, learning takes place through success but also through failure. Our coaches and staff are committed to taking the time to teach and develop both players and teams.
Utah Surf Soccer Club Play Style
Our teams employ a style of play based on keeping possession.
We emphasize speed of play and quick movement of the ball.
Players are encouraged to support and move off of the ball to create passing options.
When possession is lost, players react quickly and apply pressure to regain the ball.
This playing style means that the Utah Surf approach will greatly benefit a player's long-term development. Especially at younger ages this style may not be optimal for winning every game. Utah Surf places long-term player and team development ahead short term success.